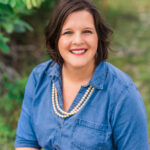 Listen to the podcast here, or read the transcript below for Caramels Launch Entrepreneurial Journey for Aerospace Worker, with guest Sarah Smith.
Kelly Scanlon
Welcome to Talking Business Now. I'm your host, Kelly Scanlon. Thank you for joining us.
We're Talking Business Now with Sarah Smith, the founder of Southern Caramel, better known as "The Caramel Lady." In this episode of Talking Business Now, Sarah talks about the inspiration behind Southern Caramel and why she started it in 2013. Sarah was a project manager and scheduler working in the aerospace industry on the Space Coast of Florida. Little did she know that a venture she launched from home in order to be with her newborn daughter would take off so fast and become a nationwide success. Welcome, Sarah.
Sarah Smith
Thank you so much for having me on today.
Kelly Scanlon
Sarah, take us back to those early days when you were in the aerospace industry and launching Southern Caramel. Did you foresee giving up that career and going full throttle into the caramel business?
Sarah Smith
I never planned to be an entrepreneur or had that desire or stir in my heart. So, to answer your question, no, I never saw this coming. I love my job. I love the people I work with. I loved the company matching retirement and the insurance that went with it and all those nice perks, a steady, reliable paycheck coming in.
It's interesting, you use the word "launching" my business because we were launching rockets or as a support contract for launching rockets. So, it's very exciting what we were doing. But things change, priorities change. And when my husband and I decided to start our family, I wanted to be home with my daughter, especially in those early years. I hadn't even really planned on a side hustle, so to speak, had started making the caramels as Christmas gifts for co-workers and family. And then fast forward to being pregnant and trying to plan for the future. And that idea was kind of in the back of my mind of, well, maybe I could make these caramels on the side.
Kelly Scanlon
And so you actually birthed two things at once—a daughter and your business!
Sarah Smith
Exactly.
Kelly Scanlon
When you decided to do this in your kitchen, as you call it yourself, a side hustle, how did you start growing? I mean, you were making these for friends and family? How do you transition from something that you're doing, just out of the love of your heart for people that you know, and then suddenly trying to market them and having the credibility to say, "Hey, this is something I'm making in my kitchen. But I I'd really like you to carry it." I mean, how did that all come about that kind of growth, that transition?
Sarah Smith
So, I think common to a lot of entrepreneurs, it was word of mouth when things first started. My first customers were the people that I had been giving them to. And then, of course, they would buy them and share them with friends. And they would look Southern Carmel up, and buy from me directly.
So, in the beginning it was it was small word of mouth, very limited in how I was selling. It was mostly farmers market-type selling channels, was very organic and not any marketing really being done in those early days shy of showing up at some event.
And then as we saw the potential and wanted to get into some grocery stores, you need to be state inspected for that. So, I was operating under the cottage food law here in Florida in the early days. And under that law, you can only sell direct to your customer. You couldn't sell wholesale or through a grocery or boutique-type channel. But once I moved into a commercial facility, it was a kitchen-sharing situation.
God bless a local bakery that opened up their doors to me two days a week to come in and use their facility. And then I was state inspected in their space as my business. And that allowed me to take it to the next level of being able to approach local grocery stores and say, "Hey, I have these caramels. I'd really love if you could sell them. And at that point, we had the licensing in place that we legally could do that.
Kelly Scanlon
You make a good point there with the kitchen sharing because that's becoming more and more common these days. So, for others who are out there listening and contemplating making the transition from something they're doing in their homes under cottage laws, or maybe you haven't even launched anything yet, that you don't have to go into a commercial space of your own. You can look at some sort of partnership and then there's also basically food labs in a lot of cities these days where startups like yours can come in and co-share space and equipment.
With every entrepreneurial story, growth starts to occur, but also some of the challenges. You had to deal with shelf life. That's another common issue with food producers, food manufacturers. Tell us about your situation.
Sarah Smith
So, one of our first mistakes, I guess you could say, would be related to shelf life and a scalability issue of, again, at that point in time making it in my home kitchen and selling it directly to somebody that was going to eat it within a week or two, there was no problem at all. So, when I moved into that commercial facility and then started selling to grocery stores, the recipe was the same. The product was the same. And I started selling to grocery stores.
We're in Central Florida, so it's very humid here. It's a beach environment, so our first couple of stores were literally like right off of the beach, so very, very high humidity environment. And the caramels were on the shelf, and I was getting phone calls from our retailers, our new retailers that had just started selling the caramels, that it was turning back to sugar because of the high moisture content and humidity in the air—that it was a nice creamy caramel when it was first put on the shelf and then customers were bringing it back to the store saying, "Uh, this isn't what I sampled. This is like a crumbly …"
It still tasted great, but just the quality and consistency wasn't there. So, I was mortified and embarrassed and just "What do I do?" You know, here I'm, you know, ready to launch to grocery stores. And they're saying, "You need to buy back your product. And we're not sure we want to sell it."
But it ended up being wonderful in that it forced me to go back to the drawing board on our recipe, and how the caramel is made, and what we might be able to do to extend shelf life. And that resulted in one of our selling points today in that we don't use corn syrup in our caramels. Our initial recipe, it did have corn syrup in it. And then in trying to figure out this shelf life issue, we tweaked the recipe to where we do not make it with corn syrup, we make our own invert sugar, which acts the same way chemically that corn syrup would. It extended our shelf life to four months. And we also didn't have corn syrup in our product anymore, which a lot of people care about. So, it was it was a win-win, but embarrassing and painful to get there.
Kelly Scanlon
But another happy accident just like entrepreneurship in general was for you. And now now with the shelf life that actually ended up being a positive thing that you could tout as a benefit of your product. That's amazing.
So, you got the shelf life under control. You find a new benefit for selling the product. And, lo and behold, you're growing again, you're taking off. And you have to leave the commercial kitchen and the shared space environment that you have. What happened next?
Sarah Smith
So, it's interesting, when we look back at those early days of being in that shared kitchen situation, the bakery where we worked out of was fabulous. But it was a tight bakery, so they didn't have any storage space for us to use. So, we could use this space, but we had to cart our equipment back and forth every day. So, as we're growing, we knew that that was not sustainable long-term. And we only had two days a week there. And it was it was just a lot to physically cart—it was like a mobile kitchen—in and out every week. So, from there, it was time to go to the next level.
And this is a really happy part of the story as well. Where as we're growing, my father was in between jobs. And he had been in the corporate world for decades and had lots of operations experience and sales experience. And I had been trying to get him to join me in Southern Carmel and he was finally ready. So he joined me as a business partner. So, we are now family-owned and operated as well.
And at that point together, we found a space that was suitable for our needs and moved into our own dedicated kitchen space that was just ours. And it was definitely a "pinch me" moment to have our own slice of heaven, so to speak. And since then, we've brought in some equipment, like I shared about earlier, to automate some things.
And even in the last week, we knocked some walls down. We were very close to moving space because we just needed a little more production space for the packaging activities. And we're looking at our space thinking, "Let's just knock down this wall." And it wasn't even really a wall that, but now that that's gone, it really, really opened things up. And our production capabilities increased dramatically, just from changing the footprint. It's not any larger, but it is larger in terms of how we can use it.
Kelly Scanlon
I'm glad you brought up about your father joining you. To bring in a business partner a few years into your business is huge for any business owner. Walk us through that decision and what it's meant for the growth of your business. I know you said it had been a long time coming.
Sarah Smith
Great question. I think it was critical for where I was at as a business owner, because when dad came on, he gave me the push that I needed to take the business to the next level. And then, of course, he took the business to the next level. So, it was one on one with inspiring me of what this could be, but also having that real-world experience and that operations experience for what this could look like. And I very much wanted this to be a full-time thing and build a business that would be sustainable and create jobs and something that I could go to year after year.
And not only the vision for taking it to a national or even global level, but he spearheaded the operations with purchasing the equipment and growing the business on a production side of if we're going to position ourselves to grow our sales and be in retail stores, we need the infrastructure to do that. And that's really been one of his babies within the business is getting that in place.
Kelly Scanlon
Talking about bringing on a business partner, it's typically something in the business, it's not necessarily that you just want to share the workload with somebody. It's usually some sort of a strategic decision, correct, where they're either going to be able to bring an influx of much-needed cash, or they're going to be able to bring the expertise that you don't have, and you know that you need, like in the case of your dad, or perhaps you're grooming someone else to take over the business eventually if you're looking to exit. So, your advice, then, for someone considering bringing on a business partner, would it fall into one of those categories I mentioned or others that would make sense for bringing in a partner?
Sarah Smith
I'm sure it's very unique, depending on the type of business and what's needed or what's missing. So, a financial consideration is obviously part of it. But when you're going to go into partner with somebody, I would not say that the finances is the only component of it because you really want to be in line with that other person or people, that you have the same vision for the business—what it is what you want it to be, what your exit strategy is or isn't. You really need to be on the same page.
Kelly Scanlon
Oh, yes. And that alignment is so, so critical.
You are pursuing multiple distribution channels. You're online, you sell your product through your website, you have a brick and mortar, and you also are primarily wholesale, I believe. So, talk us through the advantages of having multiple distribution channels.
Sarah Smith
I think in these post-COVID days, multiple distribution channels is a good thing. But even before that, we had already positioned ourselves for multiple channels of distribution. Wholesale is really where we want to focus our efforts because with a brick-and-mortar store, of course you're limited to your local audience. So, we knew that that was not who we wanted to be exclusively.
Part of our model has been to keep our overhead very low. So, our production space is in an area of town that has great rent, but not great foot traffic. We could pay six times the amount of rent to be in a great downtown area, or one of our nicer outdoor malls. But because we're not marketing ourselves for foot traffic and trying to grow that in-store presence, that hasn't been part of our model. Walk-in retail has never been the main focus, but we love when people come in. I mean, again, through that word of mouth over the years, we've got a following and we love when they come in to visit us, but when people come into our store, it's because they're existing customers and they love our caramel. It's not because they happen to walk by it. We're definitely off the beaten path.
Kelly Scanlon
You're a destination. But again, you have to figure out what makes sense for your business model.
Sarah Smith
Yes, and we've been changing and pivoting since COVID with the online component. Of course, everybody shopping online, more than ever, I mean, that's been the trend for a long time. But especially now. Even since COVID, we've had some new distribution channels and people coming to us related to drop shipping, because they don't have a place to store the product right now, or that's a risk that they're not taking in these COVID times. But we are still able to sell through those channels. And that's all been online, because people are listing our product on their website. So, that's another way that this online buying is here to stay. And that market is definitely growing.
So, lots of online opportunities along with continuing to get into those retailers. But, of course, things are just slower with that right now, with in-store shopping. So, we definitely are positioning ourselves to be available to online retailers and dropship capabilities.
Kelly Scanlon
Let's talk about another aspect of growth strategies. And that is your product diversification. You know, some people in your position would be looking at adding different products, product lines. You know, perhaps fudge or other kinds of candies. But you've made a deliberate decision to stay focused on caramels. For our listeners who may be considering adding to their product mix as part of their growth strategy, why has staying in the caramel lane been a good decision for you?
Sarah Smith
We have always said we make one thing and we make it really well. And I don't think there's anything wrong with people diversifying their product line if there's a shift in the market, and they're just really struggling and need to add something. But for us, we really want to focus on continuing to make the best caramel and not taking our eye off the prize, so to speak by adding in other confections or other products.
The way we diversify throughout the year is that we add different flavors. So, we have our standard caramels that we sell year-round. Our sea-salted caramel is our number one seller. And then we have some other flavors like a bourbon caramel or a coffee, and you can purchase those 12 months out of the year.
But what we like to do to offer our customers some variety is do different flavors seasonally. So for instance, for Valentine's Day through Mother's Day, right now we're offering a chocolate strawberry caramel and a lavender-tea caramel. So limited edition sort of a thing. And then in the summer, we'll do orange. As we go into fall, we do an apple cider and a pumpkin. And then we're always playing with different seasonal flavors as well. So, you might see something different next year because a customer suggested it and we thought, "Oh, that'll …" You know, a honey caramel, we're playing around with the honey caramel right now. So, we do get to recipe test and create new caramels. But we stick with the main thing and really focus on the quality of our caramels always being the same for our customer.
Kelly Scanlon
Over and above your caramel recipes, what would you say is the secret sauce behind the success of Southern Caramel?
Sarah Smith
I'm gonna say learning new things. You have to be willing to learn new things. And if you don't like to do that, or you don't want to do that, you're not going to be successful. Every day is going to look different. Every month, every quarter. And you're going to need to change based on looking back at your results from previous quarters and years and what you did might not work. So, it's time to go back to the drawing board and figure something else out, and with that comes research and constantly educating yourself on what's something new to try.
Kelly Scanlon
At Southern Caramel, you share more than sugary goodness. Talk to us about your giving program.
Sarah Smith
So, it's so important to us that we're able to give back to the community and organizations that we support. We give 10% of our sales to different organizations, and that's important to us. We believe that what we have been given is a gift from God and that we should give back as well. So that's core of who we are.
Kelly Scanlon
For those who have been listening today that may be interested now in purchasing some of those caramels that you create that you so lovingly handcraft, where's the best place to do that? Is that to go out to your website?
Sarah Smith
Absolutely, yes, you can visit our website which is www.SouthernCcaramel.com. And we can be found at various boutiques and retailers throughout the country. And if you if you have one in your community that you would like to see our caramels at, of course, reach out We always love to find new retailers and partner with local shops.
Kelly Scanlon
Sarah, best of luck with your continued growth. And just really appreciate your time sharing your story today and some of your tips that you've learned along your entrepreneurial journey.
Sarah Smith
Thank you so much, Kelly.
Kelly Scanlon
And I'm your host, Kelly Scanlon. Thanks for joining us today.